Celebrate Cinco De Mayo With WIC Inspired Recipes
There's no better reason to throw a dinner party for your family than Cinco De Mayo. To make your party perfect, we have rounded up a list of ideas for a festive family meal at home, including Cinco De Mayo WIC-inspired recipes!  Using key WIC ingredients, your family celebration will be healthy and delicious.  Plus, you don't have to leave the house to feel you have escaped to the perfect party venue. You can turn your dining table into the perfect escape.
Here are 3 tips to make your Cinco De Mayo fiesta perfect:
GET THE KIDS INVOLVED
Make a fun tablescape and decor for your home. Add lots of colors!

You can even get the kids to help. Search online for instructions and inspiration to make everything from plastic egg maracas to tiny pinatas made out of toilet paper rolls and decorated with tissue paper. Here is a link for instructions for an

example

of the pinatas. These

homemade table centerpieces

are also very festive. The ideas are as endless as your imagination.
MAKE SIMPLE RECIPES WITH WIC FOODS
Keep your menu simple. The party is always more perfect when there isn't a ton of work. Simple recipes that can be made in advance (like the fruit salsa recipe below) are the perfect way to celebrate Cinco De Mayo (which falls in the middle of the week). The pinto bean salsa recipe below is also super simple and quick to make.
FIESTA!
Don't forget to enjoy yourself.  The best part about a party (even if it's for immediate family) is to remember to have fun. Don't stress about the details On that note, let's get the party started with this fun Fruit Salsa Recipe. Here are a few Cinco De Mayo WIC inspired Recipes to try: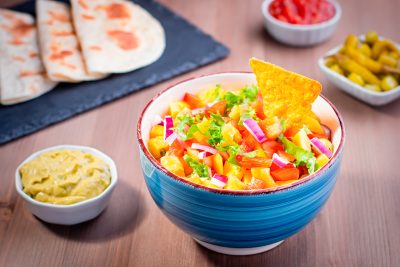 FRESH FRUIT SALSA
1 cup mango (peeled and chopped)
 1 cup diced pineapple 
1/2 cup diced red pepper 
1 roma tomato, seeded and chopped
 3 tablespoons chopped cilantro 
2 tablespoons diced onion
 2 tablespoons lime juice
 1 tablespoon lemon juice 
1 jalapeno pepper, finely chopped (0ptional) 
Put all ingredients in a bowl. Refrigerate for a few hours before serving.  
Here is a great recipe from the USDA's My Plate for Salsa Beans:
Salsa Pinto Beans 
1 tablespoon olive oil (or canola oil)
 1 onion (medium, chopped) 
1 clove garlic (minced, or 1/8 teaspoon garlic powder) 
2 cans pinto beans (15 ounces each, drained and rinsed)
 1 cup of mild salsa
 Heat the oil in a skillet over medium heat. Add the onion and garlic and cook until tender. Stir in the beans and salsa. Cook for 10 minutes. 
Source: Maryland Food Supplement Nutrition Education program, 2009 Recipe Calendar.
Get your WIC foods at Lone Star Family Market. To find a store near you visit our location page online. Interested in joining Texas WIC? You can get your application started online. For more recipes spotlighting WIC foods, visit our blog.