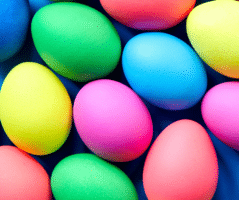 Making Easter Eggs is fun for kids and adults. Here are a few tips to make the perfect eggs and recipes to use when eating them.
Making the perfect Easter eggs involves a combination of boiling the eggs correctly, preparing a dye solution, and then decorating them creatively. Here's a step-by-step guide to help you create beautiful and festive Easter eggs:
Boiling the eggs
       

Place the eggs in a single layer in a large saucepan.

       

Cover the eggs with cold water, about an inch above the eggs.

       

Bring the water to a rolling boil over medium-high heat.

       

Once boiling, remove the saucepan from heat and cover with a lid.

       

Let the eggs sit for 10-12 minutes.

       

Transfer the eggs to a bowl of ice water to cool them down and stop the cooking process. Leave them in the ice water for at least 5 minutes.
 Preparing the dye solution
     

Choose your desired food coloring or natural dyes (such as beet juice, turmeric, or red cabbage).

     

In a small bowl or cup, mix 1/2 cup of boiling water, 1 tablespoon of white vinegar, and 10-20 drops of food coloring (or the equivalent amount of natural dye).

     

Stir the dye solution until the color is evenly mixed.
Dyeing the eggs
     

Use a spoon or egg dipper to lower a cooled egg into the dye solution.

     

Let the egg soak in the dye for 5-10 minutes, or until the desired color is achieved. The longer the egg is submerged, the deeper the color will be.

     

Carefully remove the egg from the dye and place it on a drying rack or paper towel-lined plate to dry.
 Decorating the eggs
     

You can use a variety of tools and materials to decorate your Easter eggs, such as markers, stickers, glitter, or paint.

     

For a simple design, you can use a white crayon to draw patterns on the eggshell before dyeing, which will create a resist effect and leave the drawn areas white.

     

You can also use rubber bands, tape, or stencils to create patterns and shapes on the eggs.

     

If you want to add more colors, repeat the dyeing process with different colors and let each layer dry in between.
 Displaying your Easter eggs
       

Once the eggs are completely dry, you can place them in a decorative basket, egg cups, or create an Easter egg tree by hanging them with colorful ribbons.
 Remember to be creative and have fun experimenting with different colors and designs. Happy Easter!
Once you have boiled Easter eggs, there are many delicious recipes you can make with them. Here are some ideas: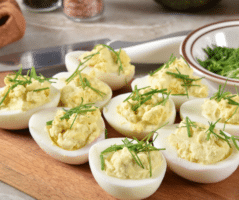 DEVILED EGGS
6 boiled Easter eggs
1/4 cup mayonnaise
1 teaspoon mustard
Salt and pepper to taste
Paprika for garnish
Cut the eggs in half lengthwise, remove the yolks and place them in a bowl. Mash the yolks with a fork, then mix in the mayonnaise, mustard, salt, and pepper. Spoon or pipe the mixture back into the egg whites. Sprinkle with paprika and serve chilled.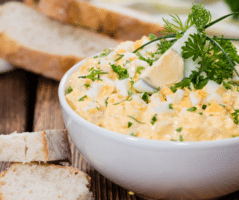 EGG SALAD
6 boiled Easter eggs
1/4 cup mayonnaise
1 teaspoon mustard
1/4 cup chopped celery
2 tablespoons chopped red onion
Salt and pepper to taste
Chop the eggs and mix them with the mayonnaise, mustard, celery, and red onion. Season with salt and pepper. Serve on bread, toast, or with crackers.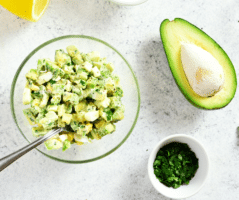 AVOCADO EGG SALAD
Avocado egg salad is a delicious and creamy twist on the classic egg salad. It's a perfect option for a light and healthy lunch or snack. Here's a simple recipe to make avocado egg salad:
6 boiled eggs, chopped
2 ripe avocados, diced
1/4 cup mayonnaise (optional)
1/4 cup chopped red onion
1/4 cup chopped celery
1 tablespoon chopped fresh cilantro or parsley
Juice of 1/2 lemon or lime
Salt and pepper, to taste
In a large mixing bowl, mash the diced avocados with a fork until they reach your desired consistency. You can leave it chunky or make it smoother, depending on your preference.
Add the mayonnaise (if using) to the mashed avocados and mix until well combined. The mayonnaise will add creaminess to the salad, but you can skip it for a healthier version or substitute it with Greek yogurt.
Gently fold in the chopped boiled eggs, red onion, celery, and cilantro or parsley. Make sure all the ingredients are well distributed throughout the mixture.
Squeeze the lemon or lime juice over the salad, and season with salt and pepper to taste. Mix well to ensure the flavors are evenly combined.
Cover the bowl with plastic wrap and refrigerate the avocado egg salad for at least 30 minutes to let the flavors meld together.
Serve the avocado egg salad on its own, with crackers, on toast, in a sandwich, or on a bed of lettuce. Enjoy this creamy and flavorful twist on a classic egg salad recipe!
Note: Avocado egg salad is best consumed the same day it is prepared, as the avocado may start to brown over time.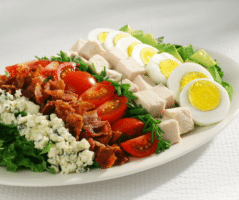 COBB SALAD
4 cups chopped romaine lettuce
2 boiled Easter eggs, chopped
1 avocado, diced
1/2 cup cooked, crumbled bacon
1/2 cup diced cooked chicken or turkey
1/2 cup diced tomatoes
1/2 cup crumbled blue cheese
Your favorite dressing
Arrange the lettuce on a large plate or platter. Top with rows of chopped eggs, avocado, bacon, chicken, tomatoes, and blue cheese. Drizzle with your favorite dressing and serve.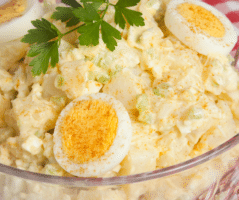 POTATO SALAD
4 cups cooked, cubed potatoes
4 boiled Easter eggs, chopped
1/2 cup mayonnaise
1/4 cup chopped pickles
1/4 cup chopped red onion
1/4 cup chopped celery
2 tablespoons chopped fresh parsley
Salt and pepper to taste
Combine the potatoes, eggs, mayonnaise, pickles, red onion, celery, and parsley in a large bowl. Season with salt and pepper. Mix well and refrigerate for at least 1 hour before serving.
 Enjoy these delicious recipes!