Texas WIC classes this month are packed with wonderful tips from experts. Included are sessions on everything from how to make a recipe using WIC foods to story time for your little one. Use the link below to Texas WIC to sign up for the free classes.
Here is a glance at some of the FREE upcoming LIVE ONLINE classes that can be taken from the comfort of your own home:
Live Pregnancy Discussion: Preparing for Baby and Taking Care of You – Monday, January 9 12:00PM

You've probably heard a lot of different advice about pregnancy, making it hard to know what's best when it comes to nutrition, health and preparing for your new baby. Join Texas WIC for a LIVE discussion on all things pregnancy featuring a special guest expert!

Live Discussion on WIC Shopping Tips and Tricks – Tuesday, January 10 12:00PM

Does WIC shopping overwhelm or confuse you? Join Texas WIC experts for a live discussion where their pros will explain how to choose the right foods, some tips and tricks for common shopping challenges and what's new in WIC foods.

Live – Ask the Expert about Breastfeeding and Pumping – Tuesday, January 10 3:00PM

If you are pregnant or recently gave birth, join Texas WIC for a weekly discussion on breastfeeding topics. Bring your support person and meet with Texas WIC's breastfeeding experts, as they dive into everything you need to know about breastfeeding, pumping and bottle feeding.
Live Discussion on Introducing Your Baby to Foods – Wednesday, January 11 11:00 AM

Introducing solid food is an exciting adventure, but Texas WIC experts can help. If you have a baby who is getting ready to start solid foods, or has recently started, join Texas WIC for a LIVE discussion about introducing solid foods.
Live Discussion and Activity on Cool Drinks for Kids – Thursday, January 12 11:00AM

Are you looking for a way to keep your child hydrated without giving them sugary drinks? Join Texas WIC for a LIVE discussion and recipe activity to learn simple ways to make water more appealing to your child.

Live Discussion on Breastfeeding After Coming Home from the Hospital – Thursday, January 12 2:00 PM

Join Texas WIC for a LIVE discussion about what to expect with breastfeeding once you come home from your hospital or birthing center. Texas WIC's infant feeding experts will dive into common questions about engorgement, feeding schedules and positioning.
To register for these Texas WIC events, and see additional WIC Click & Learn Classes visit Texas WIC online at: https://texaswic.org/online-classes
Moms and moms-to-be all need savvy, time-saving hacks to save time, be healthy and to maintain sanity.
Infant and toddler moms don't usually have a lot of spare time. Moms often feel a lot of stress to take care of tiny humans. That's why we have come up with some great mom hacks to help save time while offering a little piece-of-mind.
Stress for expecting mothers can also be high. What can you eat? What should you not eat? It can be overwhelming. Not to mention, you are creating a human in your belly. That is very tiring.
PREGNANCY HACKS
Now is the perfect time to practice carrying a prepared bag (think diaper bag for moms). Except this bag will be filled with healthy snacks/water for mom. Here are a few ideas for your mom bag: water bottle, dry WIC-approved cereal – which is packed with iron and fiber. Other ideas for your "snack" bag: fresh fruit like bananas or peanut butter on whole wheat bread.  Get more information about WIC foods and pregnancy here.
TIME SAVING COOKING HACKS FOR MOMS
Every mom loves a good kitchen shortcut. Here are a few ideas you can use in the kitchen to help you save time or maintain your sanity.
First up: homemade teething rings. When toddlers start to teeth, it can be painful for your baby and hard on mom. No parent likes a little one to cry in pain. Make homemade teething ring popsicles. The cold pop is perfect for sore gums. Here is a recipe you can use:
BERRY YOGURT POPSICLES
1 ½ bananas (mom can eat the other half)
16 ounces of yogurt (any flavor)
4 ounces of blueberries
Blend all ingredients in a blender until it is very smooth. Place yogurt mixture into popsicle molds. Freeze for at least 6 hours. Keep in the freezer for the next time your child needs a treat.
2. Make pre-made snacks for hungry toddlers. Moms know that one of your main roles as a parent is to give your child healthy foods. It can often feel like a full-time job. For kiddos starting to eat table food, make sure you have easy foods you can grab for a snack or meal when your baby wants to eat. A few great examples are avocados and bananas that can be smashed for smaller children. Pre-cook boiled eggs to have on head in the fridge. These are great for children starting to eat real foods and older kids looking for a snack. Here are a few more ideas for snacks using WIC foods.
CRAFTY PROJECTS
Having a little fun can also be a great way to take a break and cut the stress. We have gathered a few hacks using containers from WIC foods. Use empty and cleaned milk and egg cartons for fun crafty projects. So are baby food jars. Here are a few ideas:
Turn your egg carton into a fun container for kid paint. Each egg holder can be for a different color.  Your egg container could also be used to create a homemade sensory tray. Fill the egg carton with items with different textures that you can find around the house: a small ball of yarn, a block, a small piece of fabric. Just make sure the items are age-appropriate and are not a choking hazard for your little one.
For older kids, use the lids from your milk  jugs to make checkers pieces. Just color the lid black or red. Save enough to make your own checkers pieces. Make a checkerboard out of cardboard or a piece of paper you have around the house.
Of course your imagination is the limit for using containers to help entertain your kids. Sometimes kids enjoy making toys out of the simplest items around your house.
The best mom hack of all is to get all your WIC foods in one easy stop at any Lone Star Family Market location. Since you won't have to go searching down long aisles to get all your WIC foods, you will save time and your sanity. Find a location near you.
Do you have mom hacks you would like to share? Drop them in the comments below. Use hashtag #GSNmomhacks
Looking for more blog articles about these topics? Check these out:
Cheers to 2023!
Fill Your Bowl With Symbols Of A Year-To-Come Filled With Luck, Money
It's almost 2023! Bringing in a New Year has a set of customs and traditions. The ball drops at Midnight. Some watch fireworks light up the sky. Some may attend parties and others may cuddle up for a movie or book at home. 
New Year's Day traditions center around food! Many people celebrate New Year's Day with Blacked Eyed Peas, which symbolizes a year filled with good luck. Others may eat something green, like Cabbage or Greens, to symbolize a year filled with money. 
This recipe combines 'luck' and 'money' into one simple, delicious Near Year's Day meal or side you and your family will love. Cheers to a year filled with luck and money!
BLACK-EYED PEAS
3 cups of black eyed peas (you can use canned, frozen, or dry!)
1 can of diced tomatoes 
½ head of cabbage, diced
½ onion, diced
1 lg carrot, diced
1 jalapeno, seeds removed & finely diced
4 cups of chicken broth
Salt, Pepper, Paprika, Oregano
Note: You can also use any of these leftovers you may have in you fridge to step it up a notch: 
Corn, bacon, ham, or a ham bone
Add all ingredients to a slow cooker and cook for 4 hours on high heat, season to taste.
Pick up all your WIC foods in one easy stop at any Lone Star Family Market location. 
Potato Soup, 3 Bean Chili Recipes To Comfort Your Family This Winter
This winter, soups are the perfect way to cozy up. We have two amazing recipes using WIC foods that will help warm your whole family on the coldest of days. These two recipes use popular WIC foods such as beans, vegetables and cheese to help make a filling family meal that you can enjoy for days to come.
BAKED POTATO SOUP
5 large russet potatoes, diced
1 teaspoon salt
5 slices thick cut bacon
1 large onion, finely diced
3 cloves garlic, minced
2 Tablespoon butter
¼ cup flour
3 cups Chicken broth
2 cups milk
1 cup sour cream
½ teaspoon pepper
2 cups shredded cheese – Colby jack, cheddar, or mozzarella work best
1/8 cup green onion chives, finely diced
Helpful Tips: 
Avoid using bagged shredded cheese, as it contains cellulose which prevents the cheese from melting smoothly.
Plain Greek Yogurt can be used instead of sour cream.
Instructions:
Submerge diced potatoes in a pot of water. Add salt and boil for about 20 minutes or until fork tender. Drain the potatoes and set aside.
Cut the bacon into squares and cook low and slow until crisp.
Add the onions and cook over medium heat for 5 minutes. Add the garlic and butter and cook for 2 more minutes. 
Slowly stir in flour while mixing and cook for 1 – 2 minutes.
Add the chicken broth, then the milk. Bring to a boil while stirring often, then reduce to a simmer. Mash the potatoes then add them to the pot. Mix in the sour cream, salt and pepper.
Remove from heat.
Gradually sprinkle in the shredded cheese. Stir until combined. Add the green onion chives and any extra cheese or sour cream you want. The soup will continue to thicken as it stands. 
Serve & enjoy!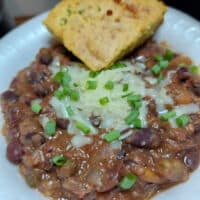 The temperatures are dropping. What's more comforting than a nice warm soup or chili? Gather up WIC-approved beans and other WIC ingredients for this hearty and healthy recipe. It's the perfect time to cozy up to a bowl of this 3 Bean Chili.
3 BEAN CHILI
1 onion, diced
1 tablespoon of minced garlic
3 celery stalks, diced
1 large carrot, diced
1 bell pepper, diced
1 jalapeno, diced
1 can of diced tomatoes with chilies
1 can of kidney beans, drained
1 can of black beans
2 cans of pinto beans, drained
1 tablespoon of butter or oil
Optional for topping:
Green onions
Cheese and/or sour cream
Turn the slow cooker on high heat. Finely dice about 2 cloves of garlic, 1 onion, 3 celery stalks, 1 large carrot, and 2 jalapenos then add to the slow cooker. Add 1 tablespoon of butter or oil & stir. Drain the liquid out of 1 can of kidney beans and 2 cans of pinto beans, then add to the slow cooker. Then add 1 can of black beans (don't drain the liquid out of this one).
Stir & cover. Cook for 4 hours, stirring occasionally. Serve with shredded cheese & green onion on top, and this pairs great with cornbread too! Enjoy!
Pick up all your WIC-approved beans and other WIC foods in one easy stop at any Lone Star Family Market store. There are 7 locations in Austin, Round Rock and San Marcos.
Check out our blog for more recipes using WIC-approved beans and other WIC foods. 
Lone Star Family Market is a service provider for the WIC program, not a part of the WIC program. This is not an official WIC blog.