September is Whole Grains Month!
Whole grains are an important part of a healthy diet. Texas WIC food packages also include whole grains, including brown rice, whole wheat bread and tortillas, corn tortillas, oatmeal and whole-wheat pasta.
Health experts recommend including whole grains in our diets because they can help "reduce risks of heart disease, stroke, cancer, diabetes and obesity," according to the Oldways Whole Grains Council.
The Dietary Guidelines for Americans recommends that at least half of all the grains you eat are whole grains. If you're like most people, you're not getting enough whole grains — so see how to make whole grains a part of your healthy diet.
Grains can be either whole or refined. Whole grains have the entire grain kernel, and include whole-wheat flour, oatmeal and brown rice to name a few. Refined grains remove fiber, iron and some vitamins. Examples include white flour, bread and rice.
In honor of whole grains month, here is a recipe to try:
Whole-Grain Tuna Rice Cakes
1 can tuna, undrained
2 cups cooked rice
1/4 cup finely chopped celery
1 Tbsp finely chopped oniona
1 slice of whole wheat bread, shredded or crumbled
Dash or two of ground black pepper
2 large eggs, lightly beaten
2 Tbsp extra-virgin olive oil
In a medium-sized bowl, combine the tuna with its liquid, rice, celery, onion, bread and pepper. Stir in the eggs and mix well. Form mixture into 4 patties using about ¼ cup mix for each. Heat oil in a pan over medium high heat. Add patties and brown on each side. Enjoy!
Get all your WIC foods at Lone Star Family Market in one easy stop. Lone Star Family Market is a chain of grocery stores that caters to WIC clients. There are 7 locations in Austin + Round Rock + San Marcos. Visit today!
Seems like we are always in a rush. Looking for a quick and easy breakfast or snack? This one is perfect for you or your littles. It is made using only WIC foods: cereal, peaches and yogurt. Add a little dash of cinnamon for extra taste.
PEACH PARFAIT
1 cup Honey Bunches of Oats with Almonds (or any WIC cereal of your choice)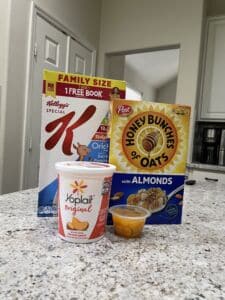 1 snack size peach cup
1 cup of peach yogurt

Sprinkle of cinnamon
Pour ½ cup of cereal in a cup. Smear ½ cup of yogurt on top of cereal. Add ½ of the peach cup on top. Repeat layers of cereal, yogurt and peach cup. Top with a sprinkle of cinnamon. Enjoy!
GET MORE SNACKS USING WIC FOODS
Get these and all your other WIC foods at Lone Star Family Market, a grocery store chain that caters to WIC clients. Find a location near a WIC clinic near you here. 
Breakfast Recipes With WIC Foods Good Enough To Eat All Day
Some might say breakfast is the best meal of the day. 
Texas WIC offers many healthy breakfast foods for pregnant women and children to help get the day off to a great start. But it is also a great way to end a day.
Here are some examples of healthy WIC foods that make the best breakfast ingredients, no matter when you eat them.
Eggs , Whole Wheat Bread, Whole Wheat Tortillas, Fruit, Vegetables, Cereal, Oatmeal, Milk, Fruit Juice, Cheese, Yogurt are all part of the Texas WIC program.
These foods are healthy and great served individually. Combine to make some of the best breakfast foods: omelets, tacos, breakfast sandwiches, smoothies and more. But changing it up is always fun. Here are a few WIC breakfast foods with a twist your family will love
BREAKFAST QUESADILLA
2 Whole Wheat Tortilla
2 large eggs
¼ cup shredded cheese
1 teaspoon butter
Cooking spray
Salsa
Sliced Avocado
Crack eggs in a bowl and whisk. Spray skillet with cooking spray over medium-high heat. Put eggs in a pan and cook for about 5 minutes. Put eggs on a plate. Wipe pan clean. Lightly butter one side of the tortilla. Place butter side down in the pan. Put ½ of the scrambled eggs on top of the tortilla and add half of the cheese and fold the tortilla in half.  Cook on each side until the tortilla is crispy and the cheese has melted, about 3 minutes. Repeat to make a second tortilla. Serve with salsa and sliced avocado.
PEANUT BUTTER, BANANA OVERNIGHT OATS
½ cup old fashioned rolled oats
½ cup milk
1/4 cup plain yogurt 
1 teaspoons maple syrup or honey
1/2 teaspoon vanilla extract, optional
pinch of salt
1 tablespoon peanut butter
Sliced bananas
Add oats, milk, yogurt, maple syrup and salt and ½ tablespoon of the peanut butter into a container with an air-tight lid. Stir. Place in the fridge overnight. The next morning, remove the lid. Stir oats and add a splash of milk. Top with remaining peanut butter and slice bananas. Overnight oats can remain in the fridge for up to 5 days in a sealed container. 
For all your WIC groceries, visit any Lone Star Family Market location in Austin, Round Rock, and San Marcos. Lone Star Family Market caters to WIC clients by providing an easy shopping experience and format to get all your WIC foods in one easy stop. SNAP also accepted. Find a location near a WIC clinic near you, lonestarfamilymarket.com/locations.
Lone Star Family Market is a service provider for the WIC program, not a part of the WIC program. This is not an official WIC blog.