Seems like we are always in a rush. Looking for a quick and easy breakfast or snack? This one is perfect for you or your littles. It is made using only WIC foods: cereal, peaches and yogurt. Add a little dash of cinnamon for extra taste.
PEACH PARFAIT
1 cup Honey Bunches of Oats with Almonds (or any WIC cereal of your choice)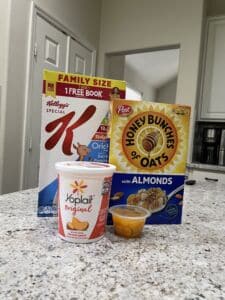 1 snack size peach cup
1 cup of peach yogurt

Sprinkle of cinnamon
Pour ½ cup of cereal in a cup. Smear ½ cup of yogurt on top of cereal. Add ½ of the peach cup on top. Repeat layers of cereal, yogurt and peach cup. Top with a sprinkle of cinnamon. Enjoy!
GET MORE SNACKS USING WIC FOODS
Get these and all your other WIC foods at Lone Star Family Market, a grocery store chain that caters to WIC clients. Find a location near a WIC clinic near you here.